Join the JGSLA for our upcoming slate of summer through winter programs. Unless stated otherwise, these program are open to the public, no reservations needed. JGSLA members are free, guests are $5.00.
Sunday, December 13, 2015 at 1:30PM
Hanukkah Party & Presentation!
University Synagogue
11960 Sunset Blvd.
Los Angeles 90049
"The Top Ten Things I Learned About My Family From My Couch" with Tammy Hepps
New to genealogy and short on time? You can make amazing discoveries using online resources! These true research examples, all taken from Jewish immigrant families, demonstrate the breadth of materials available, especially Jewish-focused web sites, and suggest next steps for when you have time to go deeper. A number of Jewish-specific research techniques will be discussed to help you overcome the unique challenges of our ancestry. If you are intermediate to advanced researcher, Tammy will also cover more esoteric ways of searching and making incredible, unexpected discoveries. Latkes will be cooked, sufganyiot will be sprinkled with sugar. Come for the facts, festivities and food!
Post dessert bonus talk: "The Margarine Moonshiners from Minsk: Taking Your Research to the Next Level"
In this half-hour presentation, Tammy will elaborate on one of the research examples from her first talk to demonstrate the amazing progress you can make when you persist with your research. Follow the rollicking genealogical journey of how she traced a group of brothers and brothers-in-law recently immigrated from Minsk, who set out to sell margarine as butter in defiance of one the stranger pieces of legislation ever passed. This case study will build upon her first talk, demonstrating more advanced research techniques and a wider array of resources. Plus, you'll laugh more than you've ever laughed before in a genealogy talk.
Tammy A. Hepps is the founder of Treelines.com, a family story-sharing website and winner of the RootsTech 2013 Developer Challenge. With a degree in Computer Science from Harvard, more than fourteen years experience in digital media, and more than two decades in genealogy, she brings a fresh perspective on sharing family history in engaging ways that take advantage of the latest technology.
---
In Memoriam: Pamela Weisberger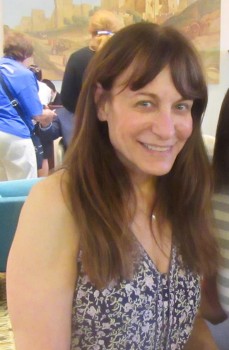 It is with profound sadness that JGSLA must announce the sudden death of our Vice President and Program Chair. Pamela Weisberger died on Friday, September 25, 2015 in Santa Monica after a brief illness. She will be missed by all of us in the Jewish genealogical community worldwide.
To her husband Ken Kaufman and to her three children, Michael, Nick, and Lily, we want to express our most sincere condolences.
We know that many in the genealogical community are as stunned and saddened as we are at this terrible news. Gesher Galicia is collecting remembrances of Pamela for this memorial webpage, and for a future special issue of their newsletter The Galitzianer. Please e-mail Brooke Schreier Ganz at asparagirl@dca.net with your additions.
A new Pamela Weisberger Memorial Fund, as a joint program between the JGSLA and Gesher Galicia, is being set up. Please stay tuned for further details. You may donate to the fund directly through the PayPal on the right side of this page. You can also send checks ($U.S. on a U.S. bank) made payable to the Pamela Weisberger Memorial Fund, c/o JGSLA, PO Box 55443, Sherman Oaks, CA 91413. Please put your email address in the memo section of your check so that we may acknowledge your donation. All checks will be deposited into the Pamela Weisberger Memorial Fund account.
A celebration of the life of Pamela Weisberger will be held at 7 pm on Wednesday September 30, 2015 at the BelAir Country Club, 10768 Bellagio Road, Los Angeles, CA. All are invited.
---
The Jewish Genealogical Society of Los Angeles (JGSLA) is a non-profit organization dedicated to the sharing of genealogical information, techniques and research tools with those who are interested in Jewish genealogy and family history.
Founded in 1979, the Society has grown to over 500 members and is governed by an elected Board of Directors. We publish a quarterly journal, "Roots-Key," and hold monthly meetings and twice-yearly research workshops which provide a varied mix of lectures and films to assist our members in their family history research.
---
---