Join the JGSLA for our upcoming programs. Unless stated otherwise, these program are open to the public, no reservations needed.  JGSLA members-free, non-members & guests are $5.00.
Thursday, February 18, 2016 at 8:00PM
Flory's Flame: A Sephardic Treasure
The  Skirball  Cultural  Center
2701 N. Sepulveda Blvd.
Los Angeles
FLORY'S FLAME: A Sephardic Treasure
Flory's Flame is a biographical documentary which explores the life and career of ninety-year-old Sephardic composer and performer Flory Jagoda. Raised in a musical household in Bosnia and then Croatia, Flory was forced to flee to Italy and then America during World War II. As one of the few remaining survivors of the Holocaust in her family, Flory has made it her life mission to continue her family's cultural legacy through music, recording five albums and earning a National Heritage Fellowship from the National Endowment for the Arts in the process. 
A Q&A with filmmakers Ellen Friedland and Curt Fissel follows the screening.
Entry is free for JGSLA members and one guest per member.    General admission for additional guests will be $10 per person, and $6 for students.  JGSLA members are requested to reserve by the end of the day on Feb 16, by sending a reservation request to president@jgsla.org
---
Monday, March 7th, 2016  at 7:30PM
Using the Resources of the US Holocaust Memorial Museum in Your Research
American Jewish University, Sperber Library 
15600 Mulholland Drive, Bel-Air, CA 90077
Megan Lewis Reference Librarian at the United States Holocaust Memorial Museum
The United States Holocaust Memorial Museum holds millions of pages of documents about individuals and communities lost in the Holocaust.  However, conducting research at the Museum can be challenging because of the sheer volume and wide variety of resources available. This presentation will provide a suggested framework on how to plan research at the Museum and demonstrate our Collections Catalog available at http://collections.ushmm.org.  I will discuss how to use Archives collections, the Library's holdings, the International Tracing Service (ITS) records and other resources in family research.  The Museum now has much original material available from home, such as over 17,000 hours of oral histories and several dozen archival collections. Both people new to Holocaust research and those who have conducted research at the Museum before will learn tips to make their research smoother.
Bio:
Megan Lewis has worked at the United States Holocaust Memorial Museum since 1998, where she is currently a reference librarian.  Before moving to the Library, she spent over a decade researching the fates of individuals, helping many genealogists along the way.  Outside of work, she has conducted research on the information needs of genealogists and has presented her work at conferences in Israel and Poland.  Megan has a BA in History from the University of Oregon and a Master's in Library and Information Science from the University of Maryland, where she is currently taking courses in digital curation.
Members of JGSLA free,  guests $5
---
UPCOMING PROGRAMS 
Sunday April 10 Family History Library
12:30 – 5:00
Assisted Research Day
Translators Available
---
JGSLA Mourns the Loss of
Our Devoted Friend and Board Member
Pamela Weisberger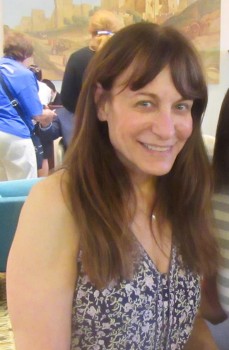 Accomplished genealogist Pamela Weisberger passed away September 25, 2015 following a brief illness. Pamela had a major impact on the lives of many in the Jewish genealogical community. She dedicated herself to numerous genealogical pursuits including the important work of promoting and producing exceptional programs for JGSLA, and to the service of our members by assuming a leadership role in the society from 2003-2015.
To honor Pamela's memory and legacy, JGSLA has established the Pamela Weisberger Memorial Lecture. Thanks to an outpouring of support, we are pleased to present the inaugural Pamela Weisberger Memorial Lecture at the 36th IAJGS International Conference on Jewish Genealogy in Seattle, WA on August 8, 2016. Our vision is to host a series of distinguished lectures of Jewish genealogical interest at various future conferences if funds are available.
To donate to the Pamela Weisberger Memorial Lecture, please use the PayPal button [below]. You may also mail a check payable to JGSLA to: JGSLA, Pamela Weisberger Memorial Lecture, PO Box 55443, Sherman Oaks, CA 91413. Please include your email address in a note or in the memo section of your check so that we may acknowledge your donation.  Thank you.
---
The Jewish Genealogical Society of Los Angeles (JGSLA) is a non-profit organization dedicated to the sharing of genealogical information, techniques and research tools with those who are interested in Jewish genealogy and family history.
Founded in 1979, the Society has grown to over 500 members and is governed by an elected Board of Directors. We hold monthly meetings which provide a mix of lectures and films to assist our members in their family history research and twice-yearly research workshops with volunteer helpers and translators.
---
---